Company Add:1 Tianhong Zhengjie, East Suburb Xi'an, Shaanxi, China.
Tel:+86-29-83368831
   +86-29-83177886
M.P:+86-13991938179
Fax: +86-29-83177885
E-mail: crj0216@163.com
About Us
Your location:Home--About Us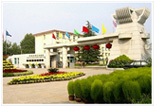 Xi'an Qingfeng Pharmaceutical Chemical Co., Ltd.formerly the Xi'an Qingua Fine Chemical Co., Ltd., is a joint-stock enterprise controlled by Xi'an Qinghhua Group subordinate to China North Industries Group Corporation. Annual production 80 million RMB, the company is mainly engaged in the business of medicines, pesticides, bio-chemicals and chemical intermediates. As the largest professional domestic manufacturer of Sodium Azide with a history of more than 50 years, the company is the designated supplier of blasting supplies and automobile safety air bags by manufacturers from all over the world.
Major products are sodium azide, 2-(Aminomethyl)-1-ethylpyrrolidine(as intermediate of sulpiride, an anti-depression drug) and pentamethyltetrazole series products(for cephalosporin), Febuxostat etc.
With over 300 employees including 60 technicians, the company is equipped with complete set of testing instruments, advanced production technologies and outstanding fine chemicals processing capability in high-pressure hydrogenation, ammoniation, nitration and rectification etc. And the company has passed the certification of IS9000 Series Quality Management System and Occupational Health and Safety System.
Keeping to the corporate spirit of "Honest, Pragmatic, Innovative, Hardworking", we have maintained a 100% growth rate year-on-year in the past 3 years. And backed by the powerful Xi'an Qinghhua Group, we are confident that we will surely embrace a brighter future.